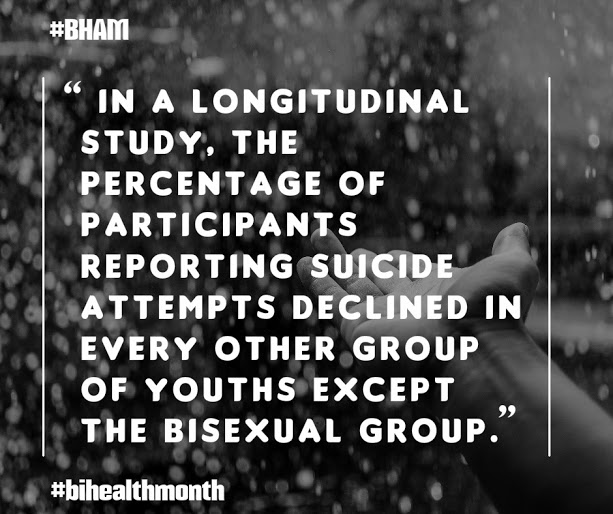 On the final day of this week, Bisexual Health Awareness Month focuses on mental health disparities among bisexual+ youth and ways to better support them through action and resources.
Bisexual+ (e.g. bisexual, pansexual, fluid, no label, queer) youth have various mental health needs, including for social support and help services, that are often unmet. They also experience biphobia, transphobia, racism, and other forms of oppression and discrimination that impact their mental health. Several research studies have found that:
Inclusive mental health and substance use treatment programs that serve all intersections of bisexual+ youth can greatly improve their health. Programs and policies that address racism, transphobia, biphobia, and other forms of discrimination in both schools and communities can also decrease mental health disparities for bisexual+ youth.
Today's Featured Resources:
GLBT National Youth Talkline — 1-800-246-7743
Trans Lifeline Hotline — 877-565-8860 (US) or 877-330-6366 (Canada)
The Trevor Project Suicide Hotline — 1-866-488-7386
There is help, and there is hope! Reach out today.
Casey, age 19: There's nothing wrong with you. Your sexuality is fluid. However long or short a time it takes to get there, embrace the path to finding just who you are and the perfect way to identify and express yourself as such. Be safe, be true to yourself, live and love with all your heart.