By Ellyn Ruthstrom
Ten years. I've got to tell you that seeing the Bi+ Health Awareness Month achieve its tenth year makes me incredibly proud. When the Bisexual Resource Center initiated the awareness month back in 2014, we were motivated to make it a success that year but had no idea that we were seeding the beginnings of an annual community-driven campaign. It is amazing to see how far it has come, how many organizations and individuals host events, and how far the messages bounce all over social media. That's the positive outcome of Bi+ Health Awareness Month after ten years!
The negative part is what inspired the campaign in the first place: the fact that bi+ people suffer from a variety of health disparities to a greater extent than gay and lesbian people. For a very long time, researchers would lump together data for the identities of gay, lesbian, and bi+ people. 
As soon as studies started to separate out the data so that you could see the experience of bi+ people, it became evident that bi+ people experience higher rates of depression, suicidality, cancer, cigarette addiction, partner violence and poverty, among other things, than their gay or lesbian counterparts. To add insult to injury, the higher rates of bi+ people, when combined with gay and lesbian people, increased the severity of the statistic. However, the services and programs that were meant to ease the problems were rarely, if ever, directed towards bi+ community members or organizations. 
Significant research started coming out within the last 10-15 years that filled in a lot more information about what bi+ people had been speaking about anecdotally for years. The Pew Research Center reported in 2013 that only 28% of bisexual people were out to most of the important people in their lives, compared to 71% of lesbians and 77% of gay men. The National Intimate Partner & Sexual Violence Survey found in 2010 that 61% of bisexual women reported experiencing rape, physical violence, or stalking as opposed to 44% of lesbians and 35% of straight women. Bi men also had the highest rate of partner violence at 37% compared to 29% of straight men and 26% of gay men. The facts were there, but the bi+ community needed a way to get our own stories told to the people who could affect change. (Note: I purposely use bisexual when citing the stats because that's what those studies use, not bi+.)
In September 2013, I helped to co-organize the first White House Roundtable on Bisexual Issues where we presented information such as this to the Obama administration about physical and mental health issues, partner violence, hate crimes, workplace discrimination and more. Our group of 34 bi+ activists from across the country brought both statistics as well as real-life experiences to the table. (This was the first of three important Obama-era meetings for the bi+ community, with larger convenings in 2015 and 2016.)
The experience of presenting this information in a high-level forum gave me hope that we could make a difference and I came back to Boston energized to do more with the information, and to reach more people. Fortuitously, the BRC had a kick-ass intern at that time, Jules Canfield, who drafted a proposal as part of their coursework at Boston University that became the Bisexual Health Awareness Month. Having Jules' time and energy focused on this work was instrumental in getting the campaign designed and launched. We worked as a team to design our social media images and to outreach across the country to other bi+ organizations and individuals to participate in Bi+ Health Awareness Month.
We all know what happened in 2017. The start of the Trump administration. For four years the bi+ community had very limited contact with anyone in D.C., and no major public events were organized. But even during that drought, #BiHealthMonth thrived and grew and became more solidly accepted as an annual community space for education and connection. Themes have included Bi+ Youth, Mental Health, Representation, Resilience, among others. Along with bi+ organizations and individuals, many more LGBTQ+ organizations, student groups and LGBTQ+ media include coverage of the month, participate in spreading the messages and sponsor their own events than ever before. 
The BRC initiated this wonderful awareness campaign in 2014 for the bi+ community to better understand our own health needs and experiences as well as to inform the larger community about bi+ lives. This year, with the theme of Beyond Visibility, the emphasis is on the work that needs to be done after you become visible, after you understand what the issues are and how they are affecting people. The bi+ community — the largest segment of the LGBTQ+ community — deserves to have our health and our lives valued. An echo of our very first slogan in 2014: Bi the Way, Our Health Matters Too! 
Our bi+ community still struggles to get the resources that we need to address the tremendous health disparities that affect our community. But we also still organize to amplify our voices whenever we can. Bi+ leaders met with the Biden administration and the Department of Health and Human Services in September 2022 to reconnect at the federal level. Following that meeting, leaders created a new coalition — BiPlus Organizing US — to continue that dialogue in the coming years. Bi+ leaders have initiated our own funding organization, The Visibility Impact Fund, to get more dollars focused on projects specifically targeting the bi+ community.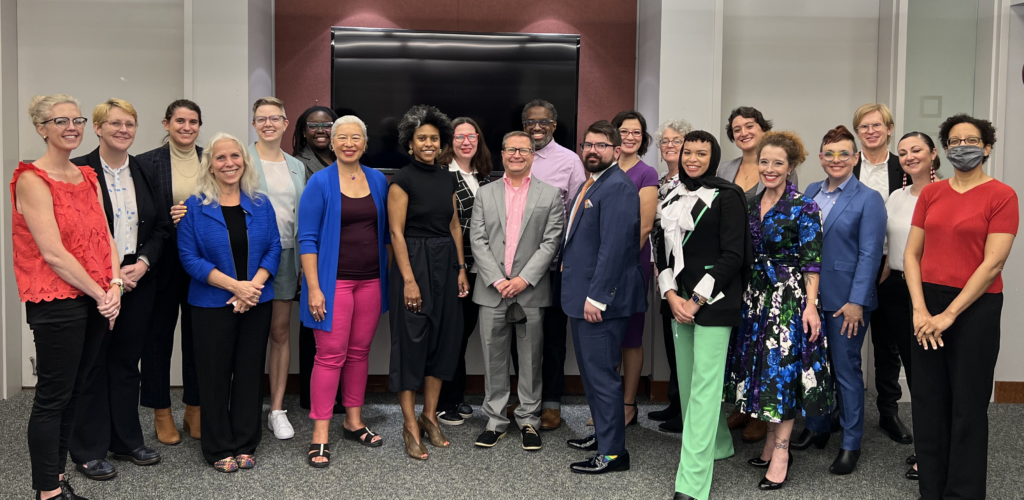 On the tenth anniversary of Bi+ Health Awareness Month, these are the things that continue to give me hope for positive change for our community. As bisexual anthropologist Margaret Mead said, "Never doubt that a small group of thoughtful, committed citizens can change the world; indeed, it is the only thing that ever does."
Ellyn Ruthstrom was the president of the Bisexual Resource Center for ten years and has been involved with bi+ organizing for 30 years. She is the Executive Director of SpeakOUT Boston, an LGBTQ+ speakers bureau that raises awareness about the community and helps to build safer and more inclusive spaces for LGBTQ+ people.