Our partner, StillBisexual, asked followers how they honor their bi+ identity. Here's the fourth installment of their responses
Crystal
To nurture my bi identity I like to watch queer films, especially ones that feature lesbian or bisexual women's relationships. It's important because growing up I never saw that side of me represented positively.
Chris
I have purple hair (on top), wear a bi-pride wristband, and a flag on my jacket collar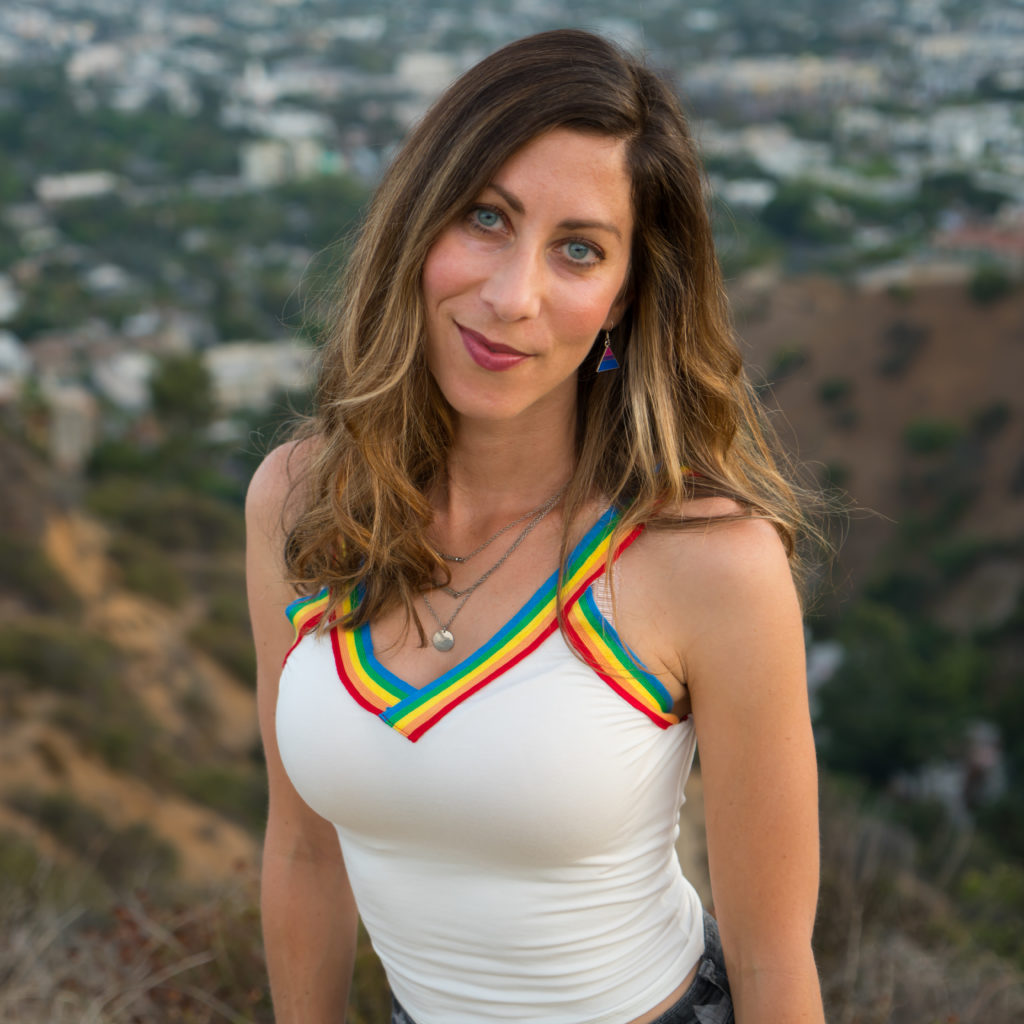 Patruni Chidananda
My story may seem like a simple heteronormative love story, and maybe it is… except I'm a reciprosexual, non-binary (gender maverique), pansexual, drag queen married to a heterosexual woman. Boom! Don't drag queens do shocking reveals best?
During lockdown, I hosted live shows online during Pride month and noticed an unfamiliar account following my every move and showing up at every live show I put on. Months later, at a family function where a relative put a little too much kumkum on my forehead, making it fall into my eyes, I met Raji. I felt an exceptional warmth I'd never experienced and then realized she was offering me a towel to clear my eyes. A few minutes into the conversation, she asked me an amusing question: "What is drag?" I thought it came out of nowhere. I didn't realize at the time that my "adoring social media fan" was none other than Raji.
Our little conversations led to an exchange of numbers and then finally, a romantic relationship. After a few months of dating, I was still skeptical about revealing my sexuality. I dropped her a text one day: I am pansexual. The next day, I got back two weblinks about pansexuality and a question: "Is this what you meant?" I needed to know whether she understood me, so I called her. "It doesn't matter what your sexuality or gender is. I may not fully understand these words and feelings, but it only matters whether you love me and wish to be with me," she said.
As time passed, we decided to make this a stronger bond, marrying each other. I thought about it a lot, and I realized that I felt no pressure to be with her; I just felt happy and the most seen with her. When I opened up about my relationship, people questioned my queerness. They put me in a box of their assumptions, a place I didn't want to be. I made it through all the judgment because of Raji, holding my hand firmly throughout. That support made it clear that I was marrying her for myself and she would help me live my most authentic self.
The one way I embrace my bisexual is by being visible as a gender performer and educating my surroundings via drag. In 2022 I wrote a song about bisexuality in my regional language telugu which made me reach out to telugu queer people to see it as a way to share their identity.
Elizabeth
As a writer, I find sharing my experiences is often affirming and validating which nurtures my bi+ identity. I also just started a Medium publication, Visible Bi+, to gather and amplify a variety of Bi+/MSpec voices in hopes of increasing visibility to dispel the many misconceptions which fuel biphobia and bi-erasure.